MMA Latest News' Top 5 weekly Prospects: Wales
As promised last week, this week I will be going through what I believe are the top 5 Welsh prospects. Wales have a lot of great talent but have never had a fighter in UFC unlike the rest of Great Britain. However, this year is looking to be quite the promising one for the country. With UFC booming all around them, they certainly have one or two that are on the Radar. Take a look as one of these could be one.
1. Brett Johns
Record: 11-0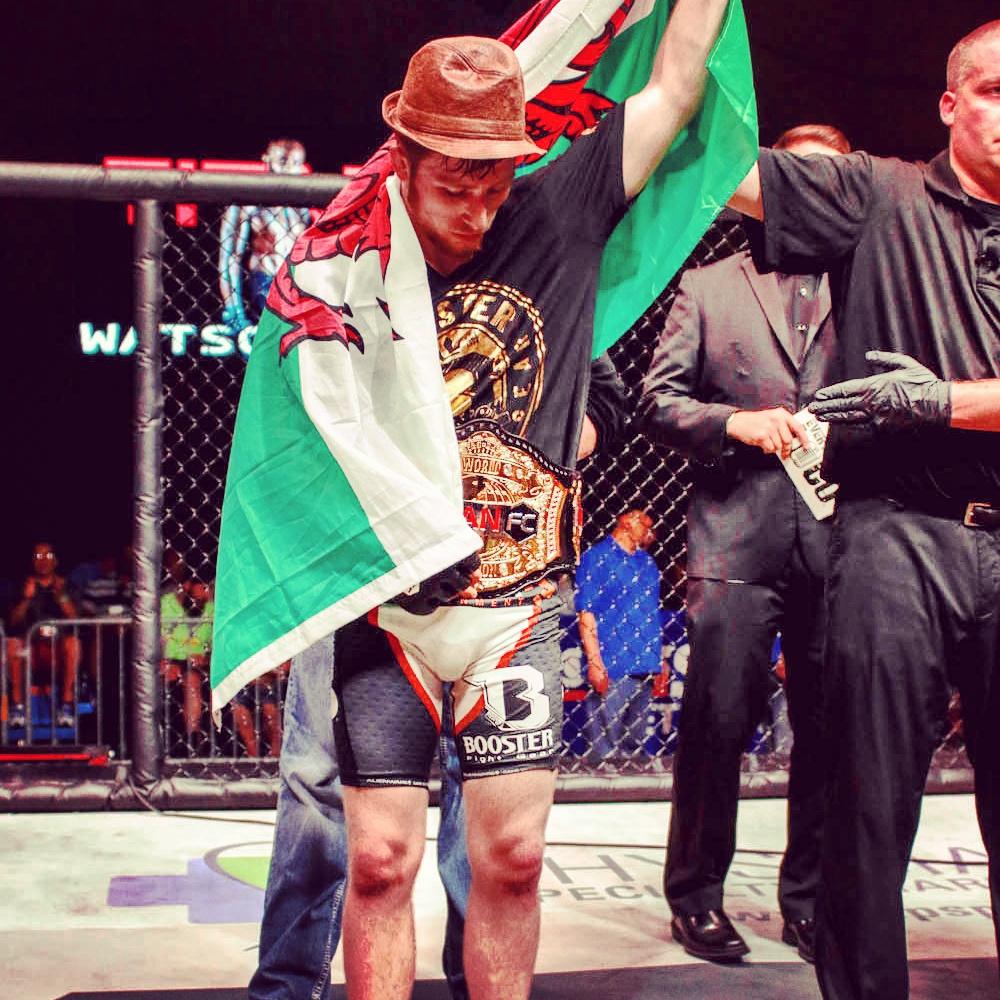 Fighting out of: Chris Rees Academy
Promotion: Titan FC
Last fight: TFC 33 vs Walel Watson for the Titan FC Bantamweight Championship (Won via Submission
Next fight: N/A
At only 23, Brett Johns has achieved quite a lot so far in his career being the former Cage Warriors Bantamweight Champion as well as the Current Titan FC Bantamweight Champion whilst maintaining a solid unscathed record of 11-0. Johns is currently the best hope for Wales to have a fighter in the UFC. He is a very well-rounded fighter and can finish a fight be it on the ground or even standing up as he has proven before. Although he may not be the most exhilarating fighter around he knows how to put on a performance proving so with all his fights to date.
After defeating Walel Watson, Johns has had a lot of backing and support from his home country as he pushes for the UFC. Watson is a former UFC fighter, who also went the distance with the current champ, TJ Dillashaw, falling short at the decision. A call may be awaiting him in his coming fights as he is proven a top class fighter with the backing of a whole country as they all want to see him in the UFC and for him to bring it to Wales for the very first time. Right now, he is certainly a contender and a major prospect I recommend keeping a very close eye on this guy as he seems destined for more success in his future.
2. John Philips

Record: 18-6 1NC
Fighting out of: Chris Rees Academy
Promotion: Fightstar Promotions(Last fought under)
Last fight: Rage in the Cage 3 vs Markus Di Gallo (Won via KO)
Next Fight: N/A
Philips was inactive from May 2013 until March 2015 when he entered the Rage in the Cage 8-man tournament fighting twice in one night to win the £10000 cash prize. This comeback has sparked up a lot of hype as he impressed on both occasions to come out with such impressive victories all in the one night. First defeating SBG's newest one to watch, Charlie ward via KO then Italian Markus Di Gallo. Previously he fought for the Cage Warriors Middleweight Championship, sadly falling short to a first round submission.
Since his return, Welsh MMA is on the rise with more than one fighter behind it once again. He is well-known for his extraordinary stand-up skills, especially boxing, picking up an unbelievable 15 wins out of 18 via KO/TKO. This record will surely stand by him in his hunt for the UFC and with Knockout power like no other I don't think many would want to stand and bang with this guy. With such a great start to the year let's see what he can do in the rest of it. Talks regarding the return of Cage Warriors could see him feature in their returning card.
3.Jack Marshman

Record: 16-5
Fighting out of: Tillery Combat MMA Academy
Promotion: Cage Warriors
Last fight: CWFC 72 vs Che Mills (Won via TKO)
Next fight: Pain Pit Fight Night: Conquest vs Kent Kauppinen
Yet another Welsh Middleweight Knockout artist, Marshman has established himself as a top contender in the European and British MMA circuit for a few years now, picking up 11 TKO/KO wins with a BAMMA title in the mixed. Marshman is only 25 and has a lot of experience for such a young guy, this will surely assist him in his future along with a recent notable win against UFC vet Che Mills.
Despite Cage Warriors being inactive, it is evident he is using that one fight release and keeping as active as possible with his upcoming fight scheduled for July. When Cage Warriors return he may look go for the title if things go his way and push for the UFC. Any promotion could surely benefit from such an exciting fighter who likes to finish fights.
4.Martin McDonough
Record: 11-5

Fighting out of: Tillery Combat MMA Academy
Promotion: Cage Warriors
Last fight: CWFC 67 vs Shaj Haque (Lost via Decision)
Next fight: Pain Pit Fight Night: Conquest vs Mike Cutting
McDonough is well-known around the European and British MMA scene for his talent and crazy hair. It is safe to say he likes to fight in great style both technique and fight wise as well as hair wise. McDonough is a multi-division fighter, primarily Bantamweight. He is willing to fight at Flyweight like his last bout, Bantamweight and Featherweight. His recent loss was his Flyweight debut where it ended his 5 fight win streak where he picked up 2 titles in 2 different promotions as well as a 3 fight win streak in Cage Warriors.
After being inactive for just over a year, it will be good to see him return to the cage. His return will see him fight Mike Cutting who previously fought in BAMMA. This fight will surely be an exciting one when both men clash and go to war. He will surely look to finish the fight as he has done with all of his 11 wins. Once again, he may be one to watch in the future in his search for a UFC contract.
5.Lewis Long
Record: 10-3

Fighting out of: MAT Academy Wales
Promotion: Cage Warriors
Last fight: M4TC 17 vs Tommy Quinn for the Vacant Welterweight title (Won via Submission)
Next fight: Pain Pit Fight Night: Conquest vs Lee Caers
Long is a Welterweight fighter who is currently on a 3 fight win streak. He is a multi-division fighter, previously fighting at Lightweight as well, unfortunately falling short on both occasions. Long is a very good grappler, ending 5 wins by submission. At the moment, he is surging forward in his career looking at titles after picking up a title in his last bout.
He may look to continue this in his future career when he returns to Cage Warriors. After winning at CWFC 72 & 73 he surely left his mark before the promotion went inactive. Going back in on such a high of wins could be vital in his hunt for the title. This may then lead to a UFC call up which would certainly be interesting.
So there, you have my Top 5 Welsh prospects. There is surely enough talent there to reach the UFC and hopefully bring an event to Wales and gain more popularity in the country then there already is. All 5 fighters have bright futures, you should all be keeping tracks of them in the future. Wales is not a country to overlook in the sport by any means, they're coming with a bang!
Thanks for reading this week's edition of MMA Latest News' Top 5 Weekly Prospects, join us next week when we go through England and their prospects, both in and outside the UFC.
EXCLUSIVE: Jack Shore talks Cage Warriors 87 Opponent Change, Pressure and Being Ready for A Big Opportunity
Jack Shore, a promising up and coming Welsh Featherweight who will be fighting on his fourth main Cage Warriors card in only his sixth professional fight. Despite his opponent, Federico Mini, dropping out days prior to the event, Shore isn't concerned ahead of the opponent change. "Just another fight, I'm ready for anything come fight night and I'm looking forward to the challenge". Cage Warriors have confirmed that Shore will now be fighting Italian, Mattia Galbiati.
Shore last fought at the Newport Centre, Wales at Cage Warriors 83, defeating his opponent Konmon Deh convincingly with a first-round submission. The crowd was electric for both his entrance and when his opponent tapped due to armbar, "I have a massive following and they like to make themselves heard on fight night, it's getting bigger and bigger every time!"
Whilst using his extensive grappling to win the fight, the Tillery Combat MMA Academy fighter was very aggressive with his strikes on the ground, "I believe my grappling style is very different to what people are used to seeing and that's why it's entertaining to watch. I'm always looking to advance and put the pressure on, but I also try to use punches and elbows to set up my transitions."
Being undefeated throughout his amateur career (including winning the IMMAF European Championships), to then continue being undefeated throughout his early professional career, Shore has a mature mindset for such a young fighter to how the sport works, "Obviously no one wants to lose but you have to be aware that it's a possibility because anything can happen in this sport. But by being aware it allows me to train and prepare correctly to do everything I can (do) to prevent that from happening."
Whilst growing up, Shore states that he wasn't the most confident of people, "As a kid growing up I was never the world's most confident person." Cage Warriors being on BT Sport within the UK, being the biggest European MMA promotion, and having the following Shore has, he feels no pressure of fighting, "But as far as MMA is concerned I don't feel any pressure at all. There's obviously the fight day nerves but anyone will tell you I deal with them very well and am more than comfortable in that environment."
With the current revolution of MMA in Wales occurring, former Cage Warriors fighters Brett Johns, Jack Marshman and John Philips all in the UFC, Josh Reed who has just come off a title shot with Cage Warriors Bantamweight champion Nathaniel Wood, Lewis Long being the best Welterweight in the UK. It brings a realistic opportunity of making the UFC, "Definitely. Since the first bunch of Welsh guys have been signed to the UFC it's shown for guys like me, Lewis Long and Josh Reed that what we are pushing for is no doubt achievable. I believe that if we keep doing what we are doing then that dream won't be too far away."
Whilst having such a successful start to his professional career, and with the attention, this young Welshman is bringing, Shore is in no rush for the Cage Warriors belt, but is prepared if the opportunity arises. "I'm just taking one fight at a time. I'm aware that I'm still young in terms of my pro career so I will continue to fight whoever Cage Warriors put in front of me. Should a big opportunity like that present itself I'll make sure I'm ready."
Shore seems to be mature for someone of the age of just 22, the future seems bright for the young Welshman. Jack Shore fights on the up and coming Cage Warriors 87 card Saturday, 14th October at the Newport Centre, Newport, Wales. The event will be free-to-air on UK sports channels FreeSports, as well as be on UFC FightPass and via the red button on BT Sport.
Check the main card out for Cage Warriors 87 below:
Lewis Long vs Roberto Soldic (Welterweight)
Craig White vs Matt Inman (Welterweight)
Jack Shore vs Mattia Galbiati (Featherweight)
Aiden Lee vs Ludovit Klein (Featherweight)
Aaron Khalid vs Ross Houston (Welterweight)
By Ieuan Thomas.
Battle Arena 47 Preview: Five Title Fights in Bedfordshire
Battle Arena fight cards almost always provide us with some of the most entertaining amateur MMA bouts you will see.
This Saturday's Battle Arena 47 card in Houghton Regis, Bedfordshire promises to continue the trend with five… yes five title fights.
Mathieu James, fighting out of MD Fight Club, takes on the Norweigan Johane Stromsnes in a featherweight bout to kick off the card. Followed by a lightweight fight with Max Pearson from Rising Crane MMA taking on Birmingham's Bahtar Oryakhil. Pearson's last appearance on Battle Arena was a split decision win back in February and he looks to take his Battle Arena record to 2-0-0.
Skipping through the undercard, Erland Limanduik Myhr vs. Lee Anthony certainly raises an eyebrown. Anthony, who is moving up to lightweight after two previous featherweight bouts, looks to shake off a decision loss last time out in April and regain the form he showed in his Battle Arena debut where he knocked out his opponent after just 38 seconds. Anthony who stands well over 6 foot will look to use his height advantage to out strike his opponent.
Callum Birkenshaw from SLKMMA in Bedworth puts his undefeated 3-0 record on the line against Liam Hardy from Mcleods MMA in a welterweight fight. In his last fight, Birkenshaw used his kickboxing skills to perfection, showing off 101-varieties of kicks and effective takedowns to stroll to a decision win over a resilient and super tough Jack Lake.
Now… time for the title fights! Our first of the evening sees Molly Lyndsey fight Megan Norman for the European title at 63kg. After a dominant display in her Battle Arena debut showing, Lyndsey was then outclassed on the canvas against Magdelina Giec, who's very credible judo and jiu jitsu eventually led to her dislocating Lyndsey's elbow.
Giechas now gone on to represent Poland at the World Games in jiu jitsu, so Lyndsey shouldn't grade herself too harshly as she looks to take the European belt against Norman.
Next up is the bantamweight European title as Rob Masters defends his belt again, this time against Badar Khalid from Prime MMA in Dunstable.
Masters, who likes to start quickly, came back from a long lay off with a split decision win over Ollie Southam to retain his belt last time out, however Masters himself said via his Instagram.
Masters fights Badar Khalid who trains with Battle Arena featherweight champion Duncan Djillali. This should benefit Khalid mentally with the champions mentality oozing out at sessions looking at that belt hanging in the gym. Khalid is moving down a weight class for this bout and it looks to be an extremely exciting fight.
Two more title fights follow as Fred Sjolie defends his European lightweight title against the Irishman Shane Geraghty who fought just 4 weeks ago, choking out his opponent in the process.
The co-main event sees a regional title fight in the bantamweight division which is bursting with talent as George Caruna takes on Tom Gibbs for the belt. Both fighters will be high on confidence as they fight off the back of wins so expect to see an explosive bout.
Finally, the main event. Jaye John vs Duncan Djillali, for the British bantamweight title.
Another title fight from the bantamweight division? How good is this weight class in Battle Arena?
Djillali started the year brightly racking up three wins before suffering an extremely controversial decision loss. Feeling that he deserved another chance at a title, Battle Arena gave this to him. In comes Jaye John.
John fought and was defeated just two weeks ago, so as you can imagine his bravery is admired for stepping back into the cage so soon with the chance to win the British title. We expect Duncan to keep the fight standing up to show off his extremely credible boxing skills.
Battle Arena is renowned for being one of the biggest amateur MMA shows in Europe so expect fireworks, expect finishes and expect some stars to break out.
Full fight card below:
Mathieu James (MD Fight Club) vs Johane Stromsnes (Front line academy) – 66KG
Max Pearson (Rising Crane MMA ) vs Bahtar Oryakhil (Counter Combat) – 70KG
Attila Hanzel (SBJMMA ) vs Tyler Thomas (Hells Pit) – 84KG
Louise Dempter (BMAC) vs Anna Askvik (Pancrase Stokholm) – 52KG
Harvey Stacy (RGA Bucks) vs Lionel Alexis (Bedford MMA) – 77KG
Erland Limanduik Myhr (ILA MMA) vs Lee Anthony (Elite TC) – 70KG
Hanna Ingram (5 Elements) vs Danielle Hutton (Team Walhead) – 66KG
Liam Hardy (McLeods MMA) vs Callum Birkenshaw (SLKMMA) – 77KG
Mark Kelly (Rising Crane MMA) vs Melvin Galdal (Frontline Academy) – 70KG
Jack Fletcher (RGA Bucks) vs Elijas Paknys (Frontline academy) – 84KG
Molly Lyndsey (5 Elements) vs Megan Norman (Hells pit) – 63KG – European Title
Rob Masters (Rising Crane MMA) vs Badar Khalid (Prime MMA) – 61KG – European Title
Shane Geraty (Samsons Martial Arts) vs Fred Sjolie (Frontline Academy) – 70KG – European Title
George Caruna (Mcleods MMA) vs Tom Gibbs (Elite TC) – 61KG – Region Title
Jaye John (Combat & Exercise) vs Duncan Djillali (Prima MMA) – 61KG – British Title

Written by Jack Wright
Cage Warriors 84: Results
Cage Warriors returns to the Indigo @ The O2 Arena in London, England with Nathaniel Wood headlining the card against Marko Kovacevic for the vacant bantamweight title.
The card also features a light heavyweight co-main event between Kenneth Bergh and Norman Paraisy as well as Matt iNman taking on Brad Wheeler in the welterweight division.
Stay tuned to our Twitter for live coverage!
Main Card (Live on BT Sport and UFC Fight Pass)
Cage Warriors Bantamweight Title: Nathaniel Wood def. Marko Kovacevic via TKO (punches) after 3:41 of Round 1.
Light-heavyweight: Kenneth Bergh def. Norman Paraisy via submission (guillotine) after 2:13 of Round 2.
Welterweight: Matt Inman def. Brad Wheeler via unanimous decision (30-25, 30-25, 30-26)
Lightweight: Alexander Jacobsen def. Tom Green via unanimous decision (30-27, 30-26, 30-26)
Welterweight: Craig White def. Hakon Foss via submission (guillotine) after 1:18 of Round 1.
Lightweight: Steve O'Keeffe def. Sean Carter via submission (heel hook) after 2:10
Catchweight (177lbs): Thomas Robertsen def. Phil Wells via unanimous decision (29-28, 29-28, 29-28)
Middleweight: Mirko Jurkovic def. James Webb via unanimous decision (30-27, 30-27, 30-27).
Flyweight: Sam Creasey def. Iurie Bejenari via submission (rear-naked choke) after 3:41 of Round 1.
Bantamweight: Darren O'Gorman def. Bryan Creighton via submission (rear-naked choke) in Round 2.